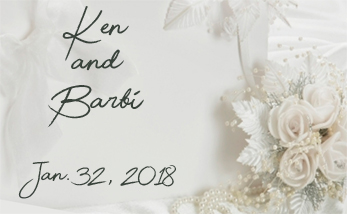 Elegant Wedding Photo Booth Graphics
For an elegant and sophisticated look in photo strips, this set of graphic layers matches perfectly.  White roses symbolize pure elegance while the string of pearls whisper sophistication. This set of wedding graphic layers provides flexibility for personalization.
Here, the photo strip graphic is shown in a popular, but vintage photo strip. To show its versatility, the background is flipped 180 decrees putting the roses in the upper left corner.  The bride chose a pink dusty rose color for the text.
Breakdown of the Photo Shop Layers.
This wedding background is proportioned the same as a 4×6 photo, making it easy to blend with a photo strip. The background includes shades of gold and champagne, adding to it's richness. A hint of forrest green is included, highlighting the foliage of the rose. Shades of grey tastefully accent the roses and set them apart from the white table cloth.
The text is written on a layer above the background. Of course the text can be in any font, size and color. Brides will want to choose a font that matches her Wedding invitation with an accent color from her wedding.
This set is beautiful in all its variations.
Can we design photo strip graphics for you?